A couple of years ago I bought a Sorare card of the Japanese football player Kaoru Mitoma. Sorare is an NFT-based fantasy sports game and collectibles platform.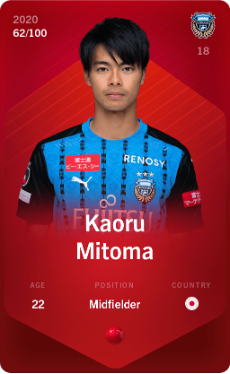 At the time Mitoma was playing for Kawasaki Frontale in the Japanese League and considered a promising, young talent. A few months later the English Premier League team Brighton and Hove Albion snapped him up. The Premier League is arguably the most physical league in the world and it can be hard for new players to immediately meet its demands. In order to help Mitoma adapt, he was loaned to Union SG in the Belgian League, a less physical division.
At Union SG, Mitoma initially started on the bench but after several impact sub appearances in which he scored a couple important goals, gradually worked his way into the starting 11.
After a strong first season in a European league, Mitoma was recalled to Brighton at the start of the current season. Similarly to Union SG, his start at Brighton was marked by a spell on the bench. He then began making appearances as a substitute before starting his first match against Chelsea three weeks ago in which he assisted one of the goals. Two weekends ago he made his second full start and scored his first goal for Brighton.
While Mitoma's ascent in European football is impressive, I uncharacteristically found myself following his career every step of the way. As an Arsenal fan and Premier League viewer, why would I follow the path of a previously unknown talent that neither plays for my favourite team nor until recently played in the league I follow ? I'd boil the reason down to true ownership. I truly own the Kaoru Mitoma card, which is an NFT that sits in my Ethereum wallet.
I can play the card in the Sorare game and transact with it on the Sorare marketplace. I can also take the card outside of Sorare. I can sell it on other NFT marketplaces like Opensea and Rarible and even play with it in other experiences created by 3rd party developers such as SorareData. I strongly believe that ownership makes you care on a deeper level. Ownership has made me follow the career path of a young talent, with all the ups and downs, from his start in the Japanese League to his breakthrough in the toughest football league in the world.
I've previously written about the user ownership and I think we're still in the early days of grasping its full potential in the online world. It's something powerful that I've experienced first hand, and I'm sure millions of others will soon as well.