The ways in which sports fans follow their favourite teams and athletes, exhibit their fandom, and connect with other fans, continuously evolve over time through advances in technology. New technologies expand the boundaries of sports fandom by enabling products and experiences that were previously not possible.
Web3 is the latest technology to add a layer to the fan experience by enabling true digital ownership. True ownership is context agnostic ownership of an asset. This evidently exists for physical assets. If you buy a jersey of your favourite sports team, you own that jersey whether you're at the stadium or at home. Ownership of digital assets is, however, context specific. If you buy a digital jersey, you can can only use that jersey within the particular game or platform you bought it on. Just take a look at FIFA Ultimate Team.
True digital ownership enables new and unique ways for the sports industry to connect with its audience and for fans to experience their fandom. Below is a non-exhaustive categorisation of some of the most interesting products I've come across that enable fans to truly own their fandom.
Fantasy sports
Fantasy sports have existed for a while, and are something with which people are familiar. For those that don't know, fantasy sports involve users creating virtual teams composed of real-life athletes, and then competing based on the performance of these athletes in actual games. Games like Premier League and ESPN Fantasy Football each have millions of players every year.
Web3 fantasy sports games like Sorare have similar gameplay but differ in the ownership guarantees of in-game assets. Traditionally, in-game assets are credited to players for a given time, usually for one season, and reside solely within the game. Each new season the roster of players users have is reset. On Sorare, users truly own NFTs of the athletes they play the game with into perpetuity and can use them across other products and experiences such as putting them for sale on third party marketplaces like Opensea.
I previously wrote about how unique that experience has been for me.
Tokenised revenue streams
Users can for the first time invest in athletes or teams in exchange for a share of their revenue streams such as prize money, sponsorships, TV rights etc.
There are no existing products in the web2 world that are directly comparable. Virtual stock markets like Royaltiz and Mojo come closest, but don't offer shares that are actually backed by the revenue streams of athletes.
Fantium enables people to invest in tennis players in return for a portion of their future prize earnings from tournaments. Upon investing, buyers receive an NFT representing their stake in the athlete's winnings. Athletes' prize money is put onchain and can be claimed by NFT holders. Investors also receive extra perks. Below is an example of the rewards granted to gold tier token holders of Alexander Bublik.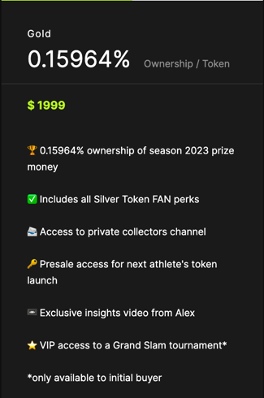 A few months back I purchased the NFT of the young Latvian tennis player Darja Semenistaja. She was outside the top 200 when I made the purchase and is now ranked 150 in the world after a series of tournament wins. It's been really fun to watch her climb the rankings and gain insights into her life on the tennis tour through her members' telegram channel. On some occasions, I even found myself watching a grainy live stream of her matches in the lower level tournaments. What made the experience even more enjoyable was I wasn't alone in doing that but joined by a passionate community of Darja's other token holders.
Collectibles
Collectibles are an all-encompassing category as many things can count as collectibles in the eyes of a collector. Sorare, as an example, is both a game but also a collectibles platform. Some people view it as a game, some as a collectibles platform, and others as a combination of both, which I personally do.
There are a plethora of products, however, that are clearly collectibles over anything else.
NBA Top Shot is one of the most notable products that allows people to buy video clips of famous NBA moments. LOVE is a project that used data points of real-life tennis moments to create a 300-piece digital art series.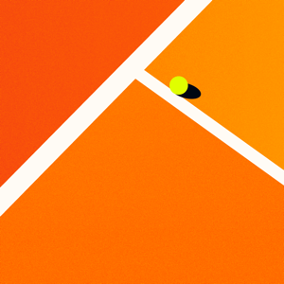 Courtyard takes physical sports cards and tokenises them as NFTs. Tokenising physical cards makes them both easier and cheaper to transact with and opens up new capabilities such as the ability for collectors to earn royalties on future trades.
Collectibles are a category that is often misunderstood in my view, as people expect all digital collectibles in the form of NFTs to come with additional utility or generate gravity-defying returns. That's not the case. What NFTs enable, however, is for digital collectibles to for the first time have the same ownership guarantees as physical collectibles.
Membership and loyalty programs
While there are a few NFT-based membership products, none offer a markedly different experience to more traditional membership programs. What I'd love to see built is a cross-platform membership and loyalty program.
Fans spend time and money in a variety of different places in the online and offline world - physical stores, fantasy sports platforms, social media etc - but their activity across each venue is siloed. As a result, individual businesses across the sports industry each have incomplete fan profiles and can't engage with fans in as personalised a manner as they could. However, web3 provides the technology for fans to build a cross-platform profile, and for teams and brands to tap into that profile and offer rewards.
I walked through a hypothetical example in a previous post:
"I'm an Arsenal fan and collect a lot of Arsenal cards. Each time I buy the NFT of an Arsenal player on the Sorare primary market, Arsenal receives a percentage of the fee. It would be neat if my purchasing history would be reflected in the experience I get when I log onto the Arsenal website with a crypto wallet. The website would be able to tell through the NFT holdings in my wallet which of their players' NFTs I own, clearly see how much I have spent on the NFTs, calculate how much has ended up in their pocket, and as a result give me a personalised experience (i.e. access to gated parts of the website, discounts to tickets / jerseys, other fan experiences)."
Web3 wallets house all the digital assets users own and can offer comprehensive insights into a user's purchasing and social activity across many platforms. They are in essence a cross-platform profile that simply does not exist in web2.
Ultimately the fan experience is about getting closer to the teams and athletes you support. Web3 and true ownership enables just that and opens up new opportunities for fun and unique products. As a big sports fan, I look forward to watching this space develop.